Time again for Hoo Are You at Night Owl Crafting!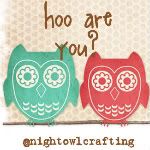 1. Do you wear glasses or contacts, if so for how long?
I started wearing glasses in the third grade. I got contacts at age twelve and wore them for eight years, but after all that time my eyes started rejecting them and I am back to glasses. I wear them with geeky pride.
2. What was your favorite board game as a kid?
I don't remember playing a lot of kids' board games. I liked to play Monopoly with the adults, and my parents and I played Star Wars trivia together during Christmas break.
3. What is a word that you use all the time?
I have a toddler, so you get one guess. No you can't climb the entertainment center, no you can't eat the cereal you stashed under the sofa last week, no that doesn't go in the toilet, no Mommy doesn't like fingers in her nose…
4. What is your favorite day of the week?
Wednesday- D&D night!
5. Did you graduate high school from the town you grew up in?
Yes, we moved just before I started Kindergarten but I attended the same school K-12.
So, Hoo Are You? Let me know if you link up!