It's Tuesday so it's time for Hoo Are You with Night Owl Crafting. This week's edition is brought to you from the middle of a blizzard! There's about a foot of snow outside and more coming.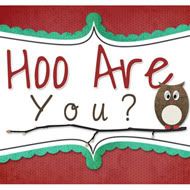 1. Are you married/in a relationship/single? For how long?
I'm married to my high school sweetheart! We've been married for three and a half years, but we dated for three years before that.
2. What do you do for a living? Do you enjoy it?
My primary job is to be mommy to my precious little girl and I love it! I do babysit part time, I love that it lets me stay with my little one and that she gets to socialize.
3. In what state do you live? Where were you born and raised?
I live in Missouri. I was born in Kansas, but both of my parents are also from this area and we moved back when I was five, so I consider this my hometown.
4. Do you have children? If so, how many? If not, do you want them?
One precious little monster, fourteen months old. I love her to pieces! I do hope that she'll be a big sister someday, but not yet.
5. Who is your favorite blogger to follow and why?
What? I have to pick one?? I really don't think I can. I follow a couple dozen craft blogs right now. I have craft ADD so I like to see everything!